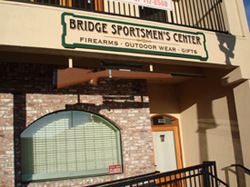 Bridge Sportsmen's Center, Inc.

Art Bridge
1319 Spring St.
Paso Robles, CA. 93446
(805) 239-GUNS (4867)

Bus. Hours:
Tuesday - Saturday ( 9:00am-5:30pm )

Contact Bridge Sportsmen's Center

Our team is working Tuesday through Saturday from 9:00am-5:30pm PST. For any type of inquiry or feedback (good or bad) let us know by sending us a message.
If you need help, our team will answer all your questions and help you with any issues that arise!