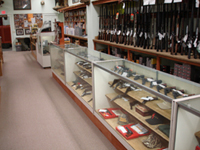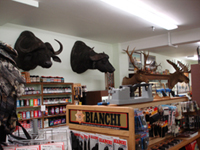 1319 Spring St.
Paso Robles, CA. 93446
(805) 239-GUNS (4867)

Bus. Hours:
Tuesday - Saturday ( 9:00am-5:30pm )

Contact Us


We have an extensive selection of used firearms. If you do not find your item listed, or you're interested in one or more of our firearms, please call us at (805) 239-GUNS (4867).

Not able to find that new or used gun? Tell us what you're looking for and we'll email you!



Our used gun database is updated when guns become available. Please check back soon and often.
If you find an item and have questions, please feel free to call us.

USED GUN SELECTION
Mfg.
Model
Cal./Guage
Description
Price
| | | | | |
| --- | --- | --- | --- | --- |
| Winchester | 21 | 12 Gauge Ser#3XX | 80% | $4,500.00 |
| Browning | BAR | 300 Win. Mag. w/scope | 95% | $1,000.00 |
| Winchester | 1895 Flatside | 30-40 Krag | 50% | $3,000.00 |
| Colt | New Service | 45 Colt | 90% | $1,195.00 |
| Winchester | 1886 | 33 Winchester | 70% | $4,500.00 |
| Winchester | 1892 | 32/20 | 70% | $2,300.00 |
| Winchester | 1903 | 22 Automatic | 80% | $600.00 |
| Winchester | 12 | 16 ga. | Solid Rib 60% | $400.00 |
| Browning | A-5 | 16 ga. | 80% Plain Bbl. | $875.00 |
| Postal Meter | M-1 Carbine | 30 M1 | 70% | $950.00 |
| Browning | FN | 257 Roberts | 80% | $1,300.00 |
| Winchester | 70 Pre 64 | 264 Win. Mag | 98% | $1,495.00 |
| Winchester | 94 Saddle Ring Carbine | 30/30 Win. | 70% | $1,500.00 |
| Ruger | Hawkeye Pistol | 256 Win. | 98% w/Leupold scope | $2,200.00 |
| S&W | 629 | 44 Mag. | 8 3/8 in. bbl. w/scope | $1,000.00 |
| Winchester | 75 | 22 Long Rifle | 90% | $800.00 |
| Winchester | 23 | 410 ga. | 98% | $4,250.00 |